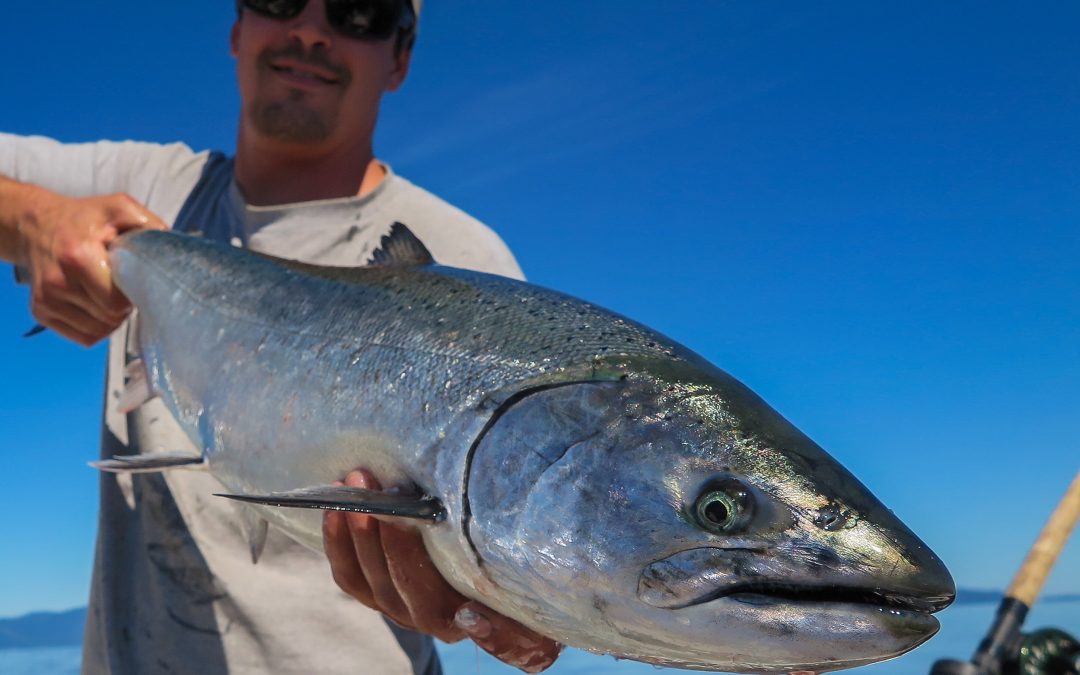 Winter Fishing Update for Campbell River for 2016/2017
Salmon are still plentiful during the winter season on Vancouver Island. The colder temperatures in the winter provide crystal clear water which allows fishers to cut down on the need to use flashers. One of the best places to find Chinook at this time of year is at the southern end of Quadra Island. Some of the favourable spoon colours include: Bad Attitude, Cop Car, Red Racer and Kitchen Sink.
Cutthroat and rainbow trout as well as Dolly Varden can still be found in Campbell River lakes at this time of year. Two of the more accessible lakes include Buttle and Echo lakes, a 15 and 30 minute drive from Campbell River. Popular fishing gear include: Krocodile spoons and Panther Martin spinners as well as a worm and bobber. Fly fishers can hook trout by using specialized patterns such as the Carey Special and Doc Spratley. Try using various retrieval speeds when casting for more success.
Big game fishing for steelhead is avialable for the adventurous fishers who want to get out during the colder months. he Quinsam and Nimpkish rivers as well as the The Gold, Salmon and Oyster rivers are all worth investigating from November through December, so you have lots of time to get ready for next year!
Winter Fishing Update for Courtenay for 2016/2017
Chinook can be found in the region of Bates Beach and Grants Reef brought in by the cold winter ocean currents. While trolling, try using a Hotspot Metallic Jelly or Purple Onion flasher in front of your bait to entice these fish. Jigging can also be done, using a chrome Point Wilson Dart around the edges of a bait ball. Dress warmly!
The Puntlege River is a perfect spot to catch and release Rainbow and Cutthroat trout. During this time of year, the fish are feeling a little lethargic and so they tend to stay in deeper waters. Lures of choice include: Rubber pink worms and BC orange Gooey Bobs for anglers using gear rods. If you are fly casting, try your luck luck using Puntledge Worm patterns, egg patterns and stone flies.
Wolf Lake has a reputation for having some really large trout when the winter weather sets in. Try using flatfish and black leech patterns when you are trolling. If you are fly fishing from shore, try using chartreuse PowerBait or a worm and bobber. If you have some P-Line Kikantors on hand try your luck at fishing for some Kokanee. Trout can also be found at Comox Lake, one of the most beautiful lakes. In this area, while trolling, try Krocodile spoons in Perch or Brass Fire-stripe patterns or cast small Vibrax spinners from your boat.
Happy Fishing!
Note: Excerpt from Tyee Marine Winter Fishing Report http://www.tyeemarine.com/fishing-report-salmon-fishing-campbell-river-comox-valley